'Ferrari Adventure' by Aidan Gormley.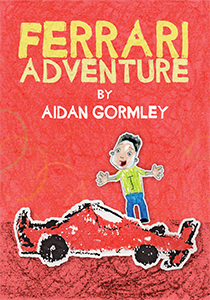 We love featuring our favourites and here is one that we love, love, love!
Published on the 24 May 2014 by Northern Ireland children's book publisher Emain Publications, this wonderful book is now available!
Written and illustrated by young Aidan Gormley at only 7 years old! Beautifully
designed by local artist and illustrator Gary Boyd, this wonderful 16 page full colour book tells the story of Johnny and a wonderful adventure he has, all to do with a … Ferrari!
Will appeal to all book and Ferrari lovers, young and not so young.
Collect a copy from The Carlisle Book Shop in Omagh, Sheehys Book Shop in Cookstown or order online here.
Check out some previews and some exclusive extracts over on the publisher's Facebook page – www.facebook.com/emainpublications
© Emain Publications © Aidan Gormley Author 2014.